Stain steel/Titanium outdoor hiking wood burning tent stove
$270
Stain steel/Titanium outdoor hiking wood burning tent stove
Fire-resistant door: The door is with a fire-resistant ceramic glass and it allows you to check the situation so as to add the firewood timely. Sliding Intake Control:Door seals the smoke from coming out of the stove body. There is an adjustable intake on the door that supplies air to the stove.
For Easy Cooking: Roasting your meat, making your coffee.Equipment will no longer be a chore or a burden in your adventure.• Create the roasty small hot tent winter camping
Save your space:Saves a lot of storage space for other camping gears.Titanium also has a high heat transfer efficiency so the stove can heat a larger area than what you might expect from its size
STAINLESS STEEL OUTDOOR CAMPING HIKING WOOD BURNING TENT STOVE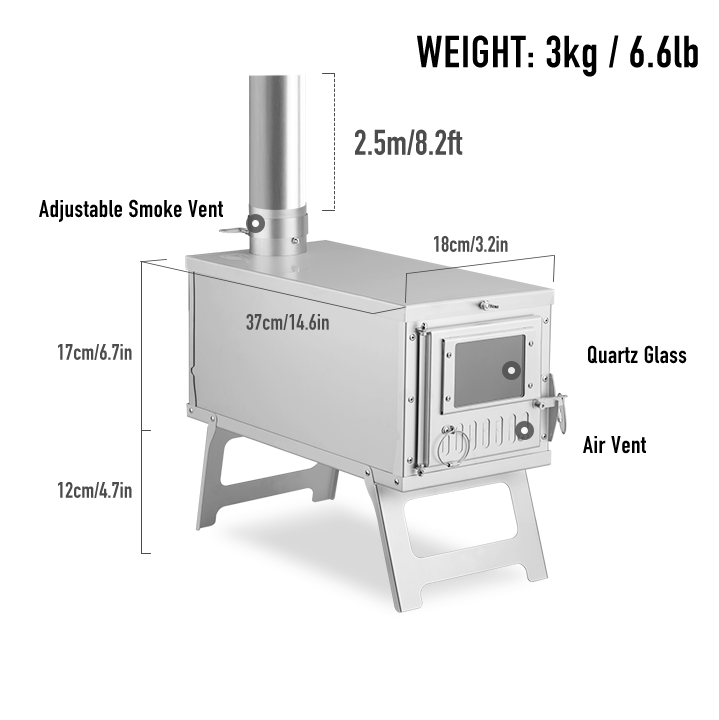 | | |
| --- | --- |
| Product name | Quick release Titanium tent stove |
| Service | OEM customized logo |
| Material | The stove body, legs and chimney are all titanium |
| Weight & size | Quick release stove weight (with spark arrestor and 3 meters titanium chimney) 2.9kg, can be put into backpack. |
| stove body size | 400mm length×205mm width×190mm height ( without legs) and 300mm with legs open |
| Mainly Fuel | wood, wheat straw, twigs, leaves or branches etc |
| Function | Quick release design, Outdoor using for tent heating, cooking etc |
| Glass window | temperature resistance : 800-1100 degree |
| Market | Worldwide, especially for cold area or cold winter |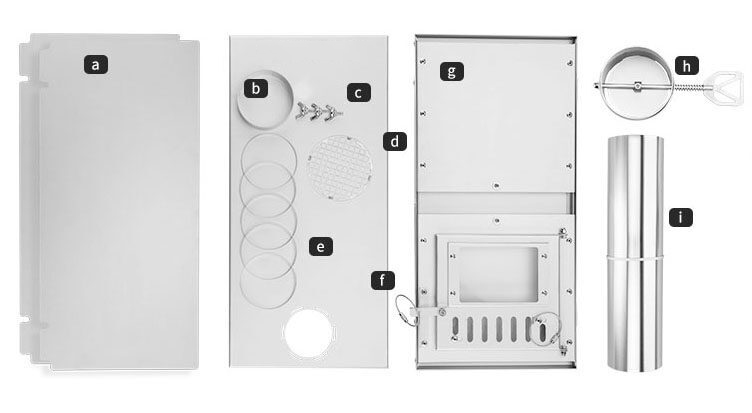 There are the overall accessories of the product,and we will also send you a bag for stoage the tent stove.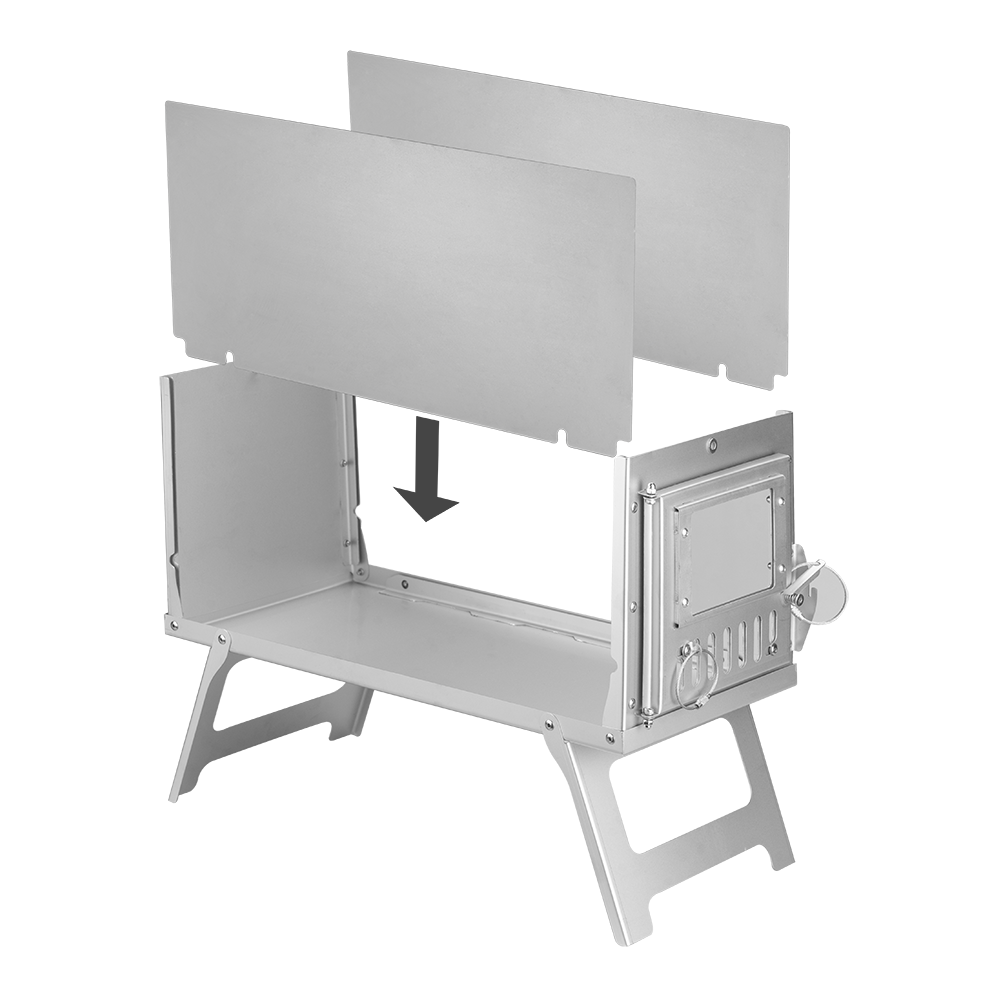 This is show you how to install the tent stove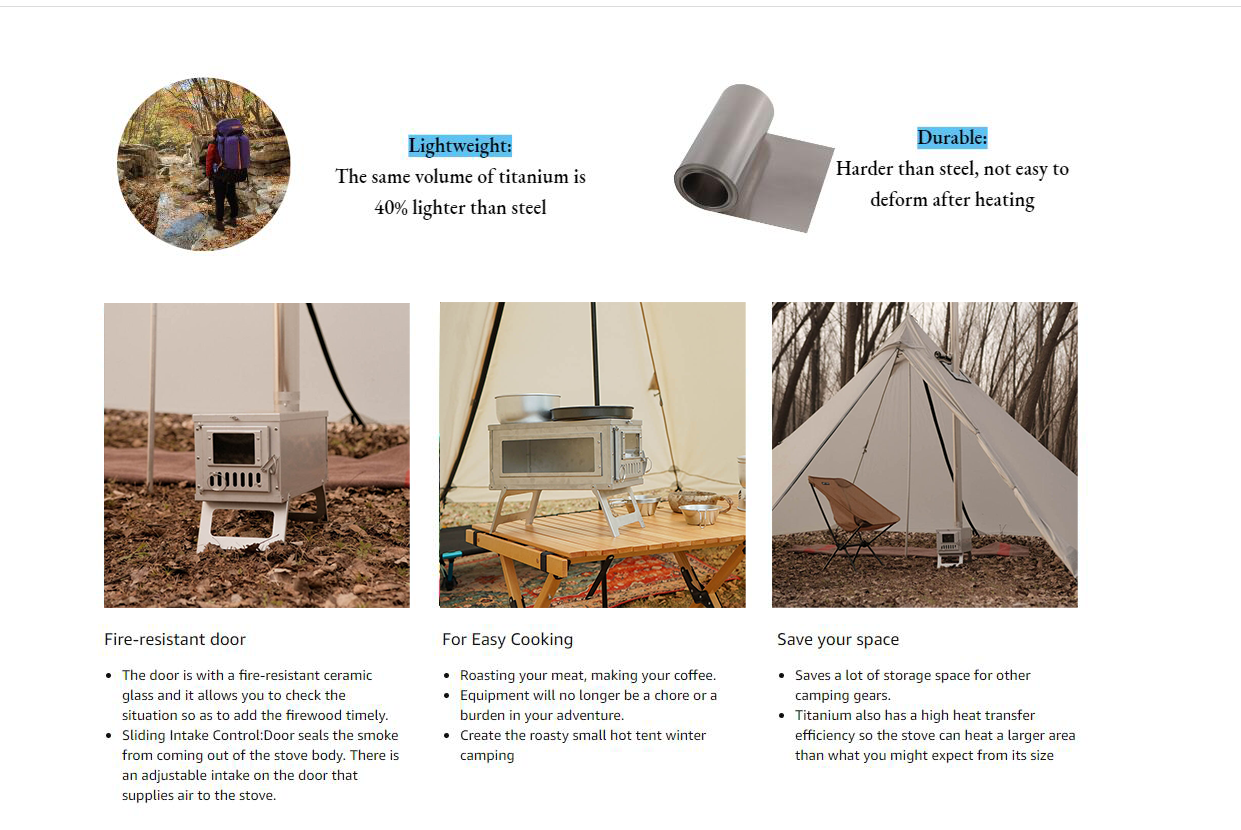 PRODUCT FEATURE

1.LightWeight:The same volume of titanium is 40% lighter than steel.

2.Durable:The Titanium Material is harder than steel,not easy to deform after heating
3.Fire-resistant door: The tent stove door is with a fire-resistant ceramic glass and it allows you to check the situation so as to add the firewood timely. Sliding Intake Control:Door seals the smoke from coming out of the stove body. There is an adjustable intake on the door that supplies air to the stove.
4. For Easy Cooking: Roasting your meat, making your coffee.Equipment will no longer be a chore or a burden in your adventure.• Create the roasty small hot tent winter camping
5. Save your space:Saves a lot of storage space for other camping gears.Titanium also has a high heat transfer efficiency so the stove can heat a larger area than what you might expect from its size